Industrial Monitor in the 5G Era
Digitization is changing our world. At present, the total number of connected devices worldwide has exceeded the total number of people on the planet. Among them, the Internet of Things, through the combination of automation technology, artificial intelligence and cloud computing, has truly realized the transformation from traditional industry to intelligent manufacturing.
For the Internet of Things, the high requirements for the network are a major obstacle to its development, but as 5G gradually moves towards commercial use, the problem of the Internet of Things will be solved and sufficient for the development of various market segments of the Internet of Things ready. Because 5G has the advantage of high transmission rate, this also makes the industrial Internet of Things field the most beneficial market segment.

industrial displays provide solutions for the industrial Internet of Things:

1. Innovative man-machine interface

In the past, in the industrial field, computer screens and even more primitive displays still occupy a dominant position, but now this situation is changing. The market demand for industrial displays can no longer meet the needs of simple displays, and to deal with the diversity of industrial environments. Industrial displays have higher requirements in terms of performance, stability, and customization.

To this end, under the urgent need for traditional industrial upgrades, Hengstar has injected innovative ideas into the company's spirit and product development. The company's industrial display equipment not only looks exquisite and stylish, but also uses an aluminum alloy body, and the front display panel also adopts a pure flat IP65 waterproof standard. , The human-computer interaction interface is clearer and smoother.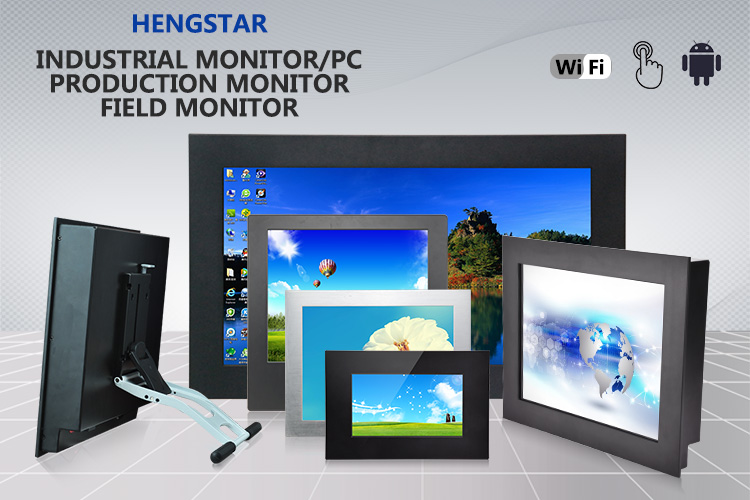 2. Better predictive maintenance

For many years, predictive maintenance has been playing an increasingly important role in industrial environments, and the continuous growth of industrial IoT components has also provided more information than before. As an industrial Internet of Things technology, predictive maintenance will surely become an excellent assistant for future industrial managers. Hengstar industrial displays can be independently compatible with multiple types of software, embedded with predictive maintenance technology, and escort user equipment protection.

3. Guaranteed network security

In the early stage, in the process of performing tasks in the Industrial Internet of Things, because of the huge amount of data, there will be chaotic situations from time to time. With the advancement of technology, these phenomena have gradually decreased. In response to the user's pain point, Hengstar uses a self-developed driver board in the industrial display, and is equipped with multiple protection protection designs, so that information security is double protected.

4. More flexible transformation

In the industrial environment, due to the complexity and change of the production process, many industrial intelligent equipment need great flexibility. Hengstar Industrial Monitors can not only be flexibly changed in installation methods, but also support desktop, wall-mounted and other installation methods. In addition to conventional requirements, they can also be customized according to user needs in terms of interface, viewing angle, working temperature and other settings. Make equipment use more flexible and changeable.

5. More efficient automation

As the automation system continues to prove its value, industrial companies will invest more money in the future and see significant efficiency improvements and lower labor costs. As one of the important data monitoring equipment in the production process, industrial displays need to have high stability to ensure automatic operation. Hengstar industrial display has anti-static, anti-vibration, anti-impact, anti-interference, dust-proof and waterproof properties, and can ensure stable operation even in harsh industrial environments such as high temperature, high pressure, dust, and oil stains, and can achieve 7 *24 Trouble-free operation helps to achieve greater automation in industrial production.

6. Expand more application scenarios

With the continuous increase of market demand for displays, industrial displays are not only used in industrial fields due to their superior performance characteristics. Hengstar industrial displays can not only be used flexibly in industrial scenarios, but also in artificial intelligence, security fields, medical care, education, business intelligence terminals, and information communications.

It can be said that the arrival of 5G is a brand new turning point for the Industrial Internet of Things. The same is true for industrial displays. With the high transmission capacity of 5G, future industrial displays will have a qualitative leap in data transmission and display.

Shenzhen Hengstar Technology Co., Ltd.
Business Type:Manufacturer , Trade Company
Product Range:Computer Cases & Towers , Motherboards , Tablet PC
Products/Service:Industrial Monitor , Embedded Computer , Broadcast Monitor , Industrial Tablet PC , Android Tablet PC , Stretched Display
Certificate:
Company Address:F/3,No.20 Building, Xinkang 2nd Road, Pingshan District, Shenzhen City, China. , Shenzhen, Guangdong, China


Previous: The use of embedded industrial computer